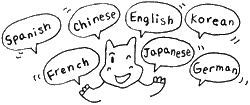 Hippo Family Club provides a fun, relaxed environment where adults and children are surrounded by the sounds of more than seven languages.It is like playing in a "multilingual park", where families and friends can share the joys of discovering languages together.

Since 1981, Hippo Family Club has been investigating natural language acquisition. Based on this research, clubs have been established in Japan, Korea, Mexico and the United States. All over the world, people of all ages can acquire language naturally, in the same manner babies learn their first language. Hippo Clubs create a supportive environment where various languages can be heard, used and developed casually with others.
HIPPO encourages people to participate with family and friends, because when an entire family gets involved in the HIPPO language activities, the natural, total immersion environment that is best for acquiring languages is established. Family and community involvement in this program is essential to its success. Only in the richness of human relationships can real learning occur.
Hippo Methodology
Languages are Like Music: Begin by Humming the Tune.
At Hippo Family Club we often say, "sing the sounds." This is more than just a metaphor. At first we try to sing the big wave of language, the rhythm and melody which constitute the "Chinese-ness" of Chinese, or the "French-ness" of French.
Babies love songs. At Hippo gatherings, even babies who can't walk yet will sway happily to the sounds of a song tape. Infants don't learn their native language by breaking the language down into little pieces of grammar and vocabulary or by looking in a dictionary, so why should a child or adult learn other languages that way?
In this way, still without understanding the meaning people can come to speak all the words, as if in a song. There was no way to make a mistake. Since I didn't even know where the breaks between words were, pieces such as "past tense" or "plural form" or "articles" were all hidden inside of the whole, and it was impossible to be confused by them. From general meaning gradually broken down into details" - this is the secret of how babies discover language. Through natural experience we've found that adults are no different from babies.